Things we look forward to this fall:

The annual workshop held by the Society of News Design kicks off in Cleveland, United States, in just two days! Apart from the general meeting of SND officers and board members, the workshop also includes free sessions for students, an iPad design course and a visit to the Rock & Roll Hall of Fame. Here is a short video about what it's all about. We'll hopefully be joining some of the excellent sessions on the line-up remotely via Skype.
The arrival of our new trainee:
Ghaya, a recent graduate of visual communications at the American University in Sharjah, will be with us for three months to learn the ins-and-outs of infographics and visual journalism in the Arab world. Judging from her impressive portfolio, she will be a great help in the hectic weeks that await us. Welcome on board, Ghaya!
October also brings…

… the WAN-IFRA infographics training session in India. It takes place on October 30 – 31, 2012, in Bengaluru. Luis is already busy prepping for this, as he will lead the two-day workshop. Aimed at experienced infographics and design professionals, the course will bring together a small group of students, with a maximum of 15 participants. Apart from practical advice on all aspects of managing infographics projects, the sessions will also encourage critical thinking and highlight the responsibility that comes with using visual communication tools. Want to find out more? DOWNLOAD THE BROCHURE HERE
In November, the SND hits Beirut!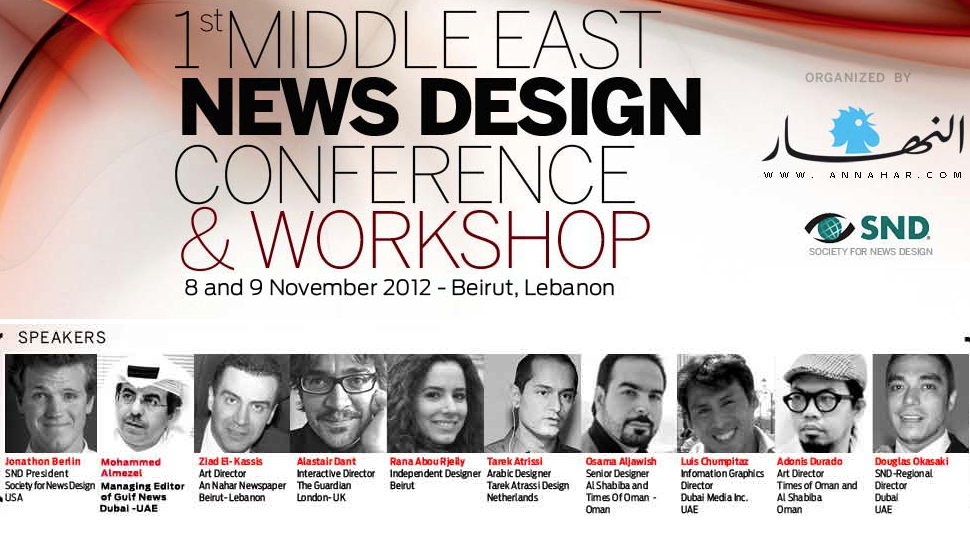 Exciting times for news design in the Arab world. The first SND event in the Middle East will bring together an assortment of top visual journalists, designers and executives from the United States, the United Kingdom and the Middle East. The conference features two workshops, which focus on regional design trends and will be held by Adonis Durado and Osama Aljawish (Times of Oman, Al Shabiba) and our own Luis Chumpitaz (Al Bayan, Emarat Al Youm, Emirates 24|7). In the spirit of 'learning by doing', participants will get involved in hands-on exercises and receive feedback on their publications.
Autumn is certainly looking busy.